Our Company
Caravan Facilities Management, LLC is a proven performer in the field of facility management. We have been providing fm services to industries around the globe for nearly two decades. Through the utilization of innovative and integrated technologies, combined with our process management systems, we consistently provide superior quality. Caravan is committed to delivering our customers safety, quality and cost-savings by:
Creating cleaner, safer facilities
Reducing operating costs
Using only one invoice for services
Implementing Environmentally Preferable (EP) practices at all facilities
Training staff and skilled trades on common processes across all facilities
Implementing quality standards for on-site job efficiency
Mission Statement
The mission of Caravan Facilities Management is to demonstrate a meaningful and tangible value proposition to our clients and employees.
The value driver for our customers is an exceptional service that: is executed in the safest manner possible; exceeds the requirements for quality; and is delivered at an affordable cost by a Minority owned business. This value proposition allows the customer to focus on their core business.
The value proposition for our employees includes: a professional and challenging work environment; that transcends multiple industries, and is played out on a worldwide stage. We expect to attract and retain professionals who delight and thrive in this type of setting.
Core Values to Guide Performance
Safety – Safety is our overriding priority. All incidents are preventable.
Integrity – Uncompromising commitment to ethical behavior in all business endeavors.
Diversity – Recognize and respect that people are unique and these differences make us stronger.
Customer Satisfaction – Listen to the customer, anticipate their needs, and provide value as a business partner.
Continuous Improvement – Relentless pursuit of excellence through innovation, operational efficiencies, and sound business strategies.
Environmental Commitment – Commitment to protecting the environment and preventing pollution.
One Company – Caravan has a strategic plan: Work together, Share ideas, and Standardize solutions.

---
Current Caravan Locations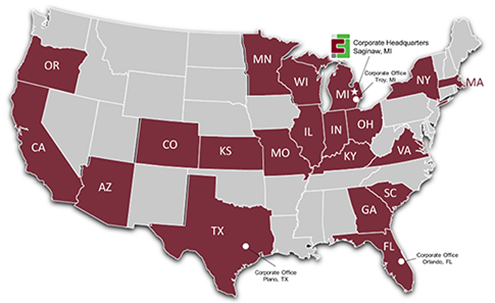 Caravan is currently providing services in 120 locations, for companies in 21 different states. We are continually growing, and intend on expanding our reach to more locations around the globe. The CaravanFM Corporate Headquarters is located in Saginaw, MI, with Corporate Offices in Troy, MI, Orlando, FL, and Plano, TX.
United States:Arizona, California, Colorado, Florida, Georgia, Illinois, Indiana, Kansas, Kentucky, Massachusetts, Michigan, Minnesota, Missouri, New York, Ohio, Oregon, South Carolina, Texas, Virginia, Wisconsin